Year 3 Closure Resources
During the time that the school is closed we will be using this page to offer ideas for home learning and other ways of keeping in touch with school staff.
ENGLISH:
In your reading journals, one of the activities is to produce a story map from a story you have read at home. If you're struggling to think of a story to choose, why not use 'Journey by Aaron Becker' We all loved this book when we used it for our book reviews and I'm sure you would enjoy illustrating the story map as well as the book does! Here's a link to the book to jog your memory: https://youtu.be/DRsmuveKWuk
STORYTIME: David Walliams is doing a free audio story every day at 11o'clock. Have a listen to his funny stories here: https://www.worldofdavidwalliams.com/elevenses/
MATHS:
You were all doing so well with learning your times tables and the inverse operations. Stay on track and keep them fresh in your head by practising often. This doesn't have to be online either, you could use items around the house to group and share. Make it fun - how may peas would each person get if you shared 60 peas between 3 people? If you do have access to online resources, see how fast you can play 'Hit the Button' on: https://www.topmarks.co.uk/maths-games/hit-the-button
There are also great free worksheets for practising column addition, subtraction and multiplication (you don't need to print them as you can copy them from the screen) on: http://www.snappymaths.com/year3/index.htm This resource is great as it categorises the learning objectives. This could keep you busy for months :)
SPANISH:
Stay on top of your amazing Spanish learning this year by drawing your favourite pet and labelling its colour, body parts, name, family etc (all the things we have learnt this year). Some free Spanish games are available at: https://rockalingua.com/games
PE:
As it is still our Healthy Active Lifestyle half-term, why don't you try making your own workout video for your classmates! You could also make the poster promoting a healthy lifestyle which was one of your booklet tasks.
THRIVE:
Some simple activities to do each day:
Week beginning 30th March
If anyone has misplaced their Reading Journal, here is a reminder of activities 1-25 that you could do: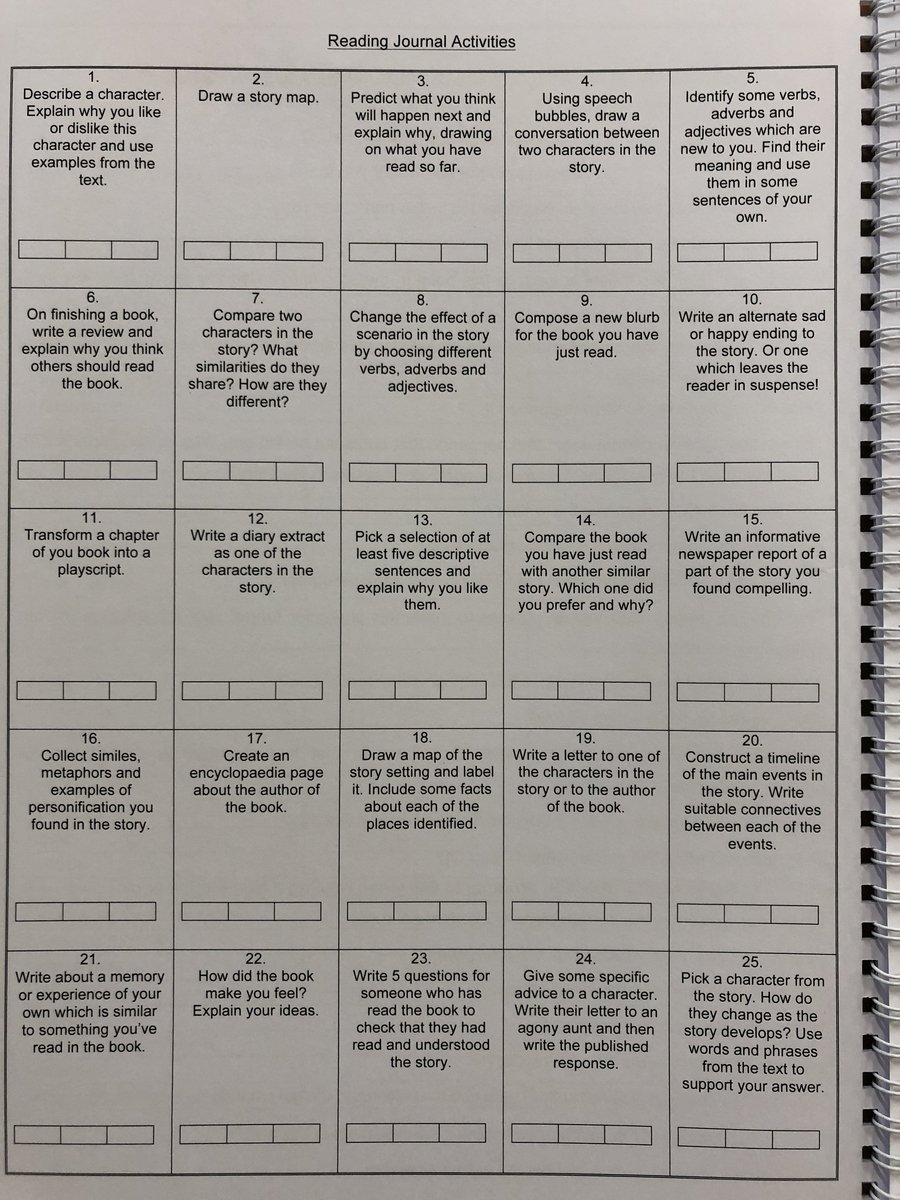 Hello everyone
Hope you and your families are all well and managing to keep busy.
Here's a daily maths challenge for you - the answers to today's challenge will be published tomorrow at the bottom of the page!
Good morning Year 3! We are sending all our best wishes and warmest thoughts at this time! You can keep updated on here each week with lots of activities to do and fun learning to keep you in the school spirit!
Speak soon,
Miss Lewis and Mrs Jackson