September 2020
Frequently Asked Questions AnswerED
When booked into Treehouse, will children still be taken directly to Treehouse after school?
Yes
Are staff able to cuddle and comfort children if they're upset or disregulated?
We will still have natural human reactions to children but we will be explaining why this is kept to a minimum and ensuring appropriate
Will the toilets be open?
The toilets will be open for children in school – but not for parents and carers. As the Risk Assessment makes clear each bubble will have allocated toilets.
How are parents meant to juggle 2 separate drop off/pick up times when we are working?
Also not waiting around when you have 15 minutes to kill & the weather may be dreadful?
This is inconvenient for all of us in many ways – however this is what the government has told us to do. We have tried to keep the disruption to a minimum – some schools have a much more staggered start and end of the day taking up to an hour to complete. We will review the procedures regularly and if it is possible reduce the times between drop off etc.
Will Y3 need to have a PE kit? If so, can this come in a bag?
All children will need a PE Kit which can be kept in the classroom as normal.
What's the process it you have kids in both bubbles at the same gate? Are we to wait somewhere in between drop offs or pick ups? Or are we to move to the streets in between? It feels unsafe to have my children and myself waiting with two bubbles. Thank you :)
We are trying to keep contact between adults to a minimum and the gate areas will become congested so we would advise standing somewhere appropriate away from the gates in between times.
What unit is year 3 please
Unit 2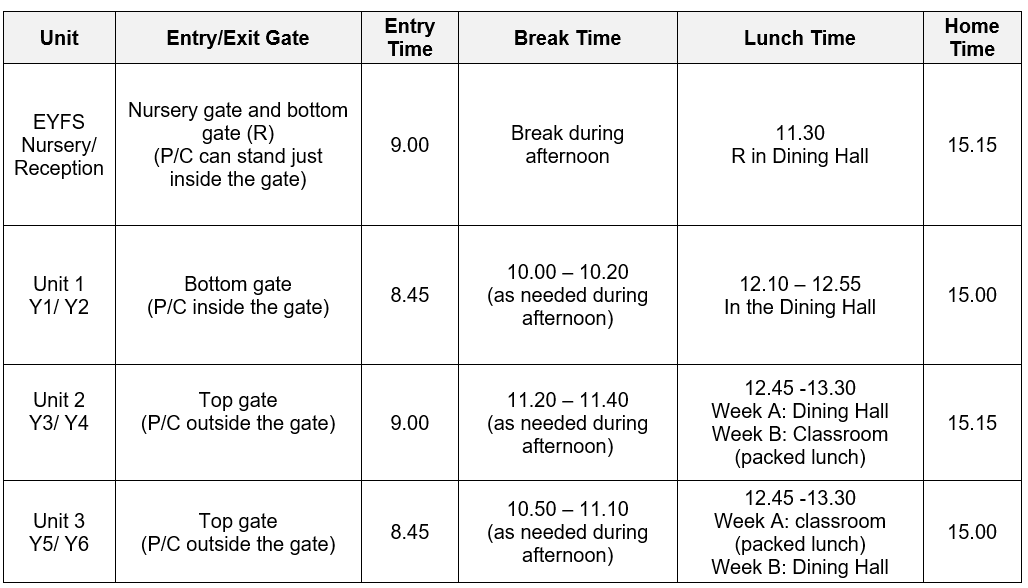 Where do year 2 children have their lunch and us it a hot lunch as normal?
In the Dining Hall - and yes it will be hot as normal. Only KS2 children will have their lunch in their classrooms - alternate weeks
Is the first week back week A or B?
A
My son normally have packed lunch,is it okay to pack it for him?
Yes
Could you tell us what the best way to communicate with teachers is now please, either because of immediate concerns or ongoing issues that we want to raise? Thank you
Email admin@hotspur.newcastle.sch.uk putting FAO (For the Attention Of) the member of staff in the subject box. This is an initial solution but we will review this in the coming weeks as it is not an ideal method.
Where do we leave bikes? Can grown ups wearing masks use the bike shed?
KS2 bikes should be left in the main bike store which is accessed via the car park entrance. Adults can help children put these in. Other bikes will be put in the shelter on the bottom yard
If you have further questions please use the form below to ask them