Y5 WWI Project
During the spring term, teachers Kathryn Cowen, Katherine Hill, and the Year Five children investigated events on the Western Front 100 years ago. Supported by a 'Heritage Lottery Fund First World War Then and Now grant' they focused on connections between Newcastle and the awesome German Spring Offensive in March 1918. They discovered that was the month that Britain almost lost the war - and Heaton men were in the thick of the fighting.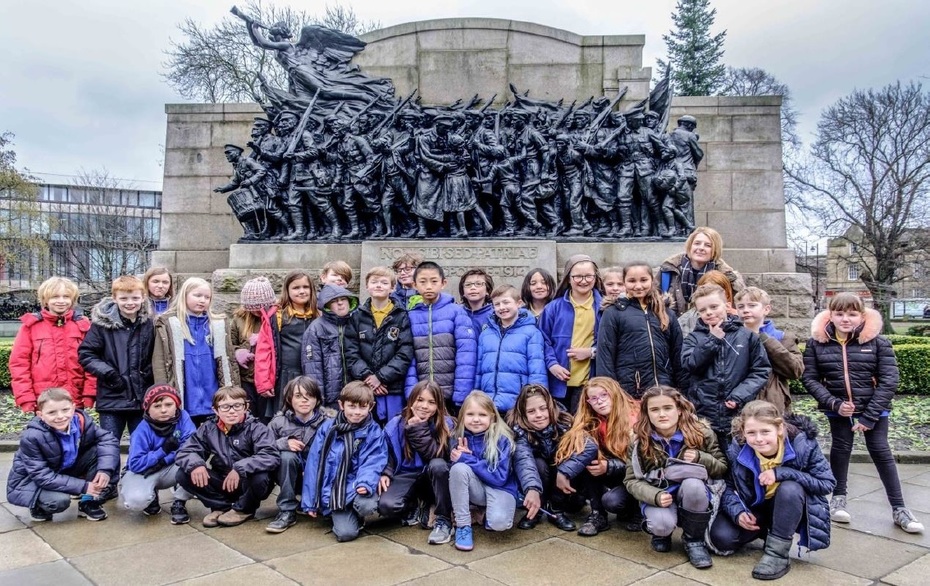 5B at the Response War Memorial, Newcastle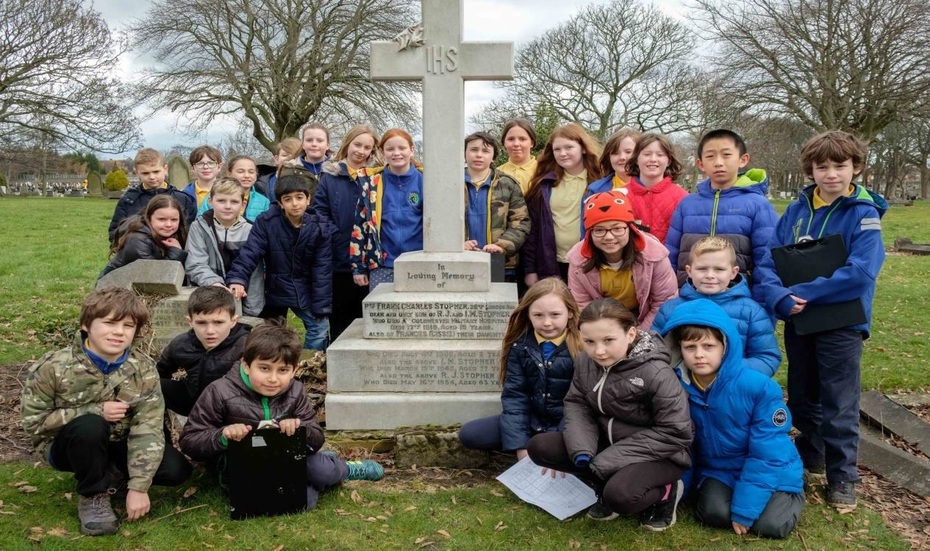 5Y at the family grave of Private Stopher, Byker and Heaton Cemetery.
Project - Digital Resources
Y5 WWI Project
These lesson plans and activities were written to support the children in their work. We hope pupils and teachers in other schools may find them informative and challenging.
When Britain Almost Lost the Great War

1 Researching First World War Headstones in Byker and Heaton Cemetery
A blank record sheet for CWGC gravestones, together with a headstone image to practice
completing the form.
2 Finding Private Martin
A research case study featuring a soldier from Heaton killed in April 1918. The children will
use an extract from a newspaper Roll Of Honour and the CWGC website.
3 The 'Pals' Batallions
How did propaganda persuade British men to join up in the famous Pals Battallions? An
analysis of three contemporay posters.
4 Joining Up
What can we learn about local soldier Tommy Atkin? (Yes, that's his real name.) Then join
up by filling in attestation and medical forms based on his records.
5 Britain: The Belgian Connection
How did the German invasion of Belgium stiffen Britain's resolve to go to war?
6 Ruth Dodds' Diary
Transcribe a page from Ruth's Diary and find out about the German raid on Hartlepool in
1914.
7 The Diary of James Littler
James was in the British front line on 21st March 1918. Find out about his experiences on
that turbulent day.
8 To the Last Man
Read General Haig's famous Order of the Day. Would this have inspired you to stand and
die?
9 Gott Strafe England
Analyse an image from this famous German propaganda campaign and create a vengeful
Norse god stamp.
10 The Response
Explore the story and symbolism of Newcastle's moving war memorial.
Acknowledgements:
Headteacher: Miles Wallis-Clarke
Teachers: Katherine Hill & Kathryn Cowen.
Project Historians: Peter Hepplewhite and Neil Tonge.
Artist: Kate Hancock
Photography: Peter Hepplewhite.
Reenactor; Doug Chapman
Heugh Battery Museum Hartlepool
Robinson Library Special Collections, Newcastle University
Images curtsey of: National Army Museum; National Archives; The Journal; Tyne and Wear Archives