Swimming
Swimming
22 March 2018 (by Ryan Redford (RyanPE))
Swimming Gala 2018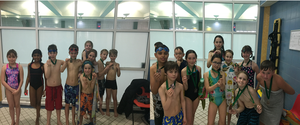 On Friday 16th March some children from year 4, 5 and 6 took part in the Swimming Gala at Byker Pool. It was a fantastic day with some brilliant performances from individuals as well as the team relays!
All the year 4 swimmers swam superbly in their heats, with some individuals qualifying for the finals. The boys freestyle relay team won a bronze medal, what a great achievement! Well done to all of year 4!
The Medals:-
Boys Freestyle Relay - Bronze
The year 5 and 6 swimmers also swam with amazing determination in their heats with all swimmers qualifying for their individual and team final! Some swimmers went on to win some medals too!
The medals:-
Girls Freestyle - Bronze - Nina
Boys Breaststoke - Gold - Fred
Girls Breaststoke - Bronze - Jaia
Boys Backstroke - Bronze - Peter
Girls Freestyle Relay - Bronze
Boys Medley Relay - Bronze
Not only did the swimmers win some medals, they all showed fantastic support towards their team mates racing, cheering them on from poolside. Well done to every child that swam, you've made Hotspur immensely proud!