Qualified for the Hockey FINALS!
Qualified for the Hockey FINALS!
2 February 2018 (by Ryan Redford (RyanPE))
Year 5 & 6 In2 Hockey Preliminary Round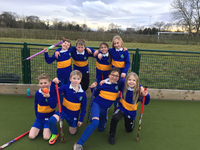 Well done to the Hockey team who have qualified for the In2 Hockey Finals day at Newcastle High School for Girls. The team will be returning to the venue after putting in 3 fantastic performances at the preliminary round which enabled them to qualify for the finals day in a couple of weeks time. The event organisers were very complimentary with how the team played and worked together throughout their games!