Freedom City
Freedom City
20 November 2017 (by Miles Wallis-Clarke (MCMWC))
Children have done a number of activities linked to the Freedom City Festival.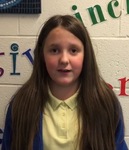 Freedom City commemorates 50 years since Martin Luther King visited Newcastle University to receive an honorary doctorate. He delivered a speech that formed part o the cultural programme.
Rosie, from Y5, was one of 50 people in the city on 13th November reciting parts of the speech made by Martin Luther King in Newcastle 50 years ago. She stood up in assembly and surprised her fellow pupils with her contribution. Others were doing the same in libraries, bakers, barbers, offices and other places as part of this project instigated by artist Jeremy Deller.