Into the Next Round!
Into the Next Round!
3 October 2017 (by Ryan Redford (RyanPE))
The year 5 & 6 football team progress to the next round of the Bob Maddison City Knockout Cup!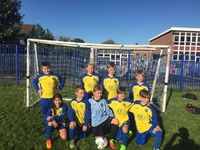 Well done to the year 5 & 6 school football team who have progressed to round 2 of the city cup. A fantastic team performance lead to a 2-1 win against a strong Wyndham side. Excellent attitude, effort and mind-set from all children involved, keep up the great work!